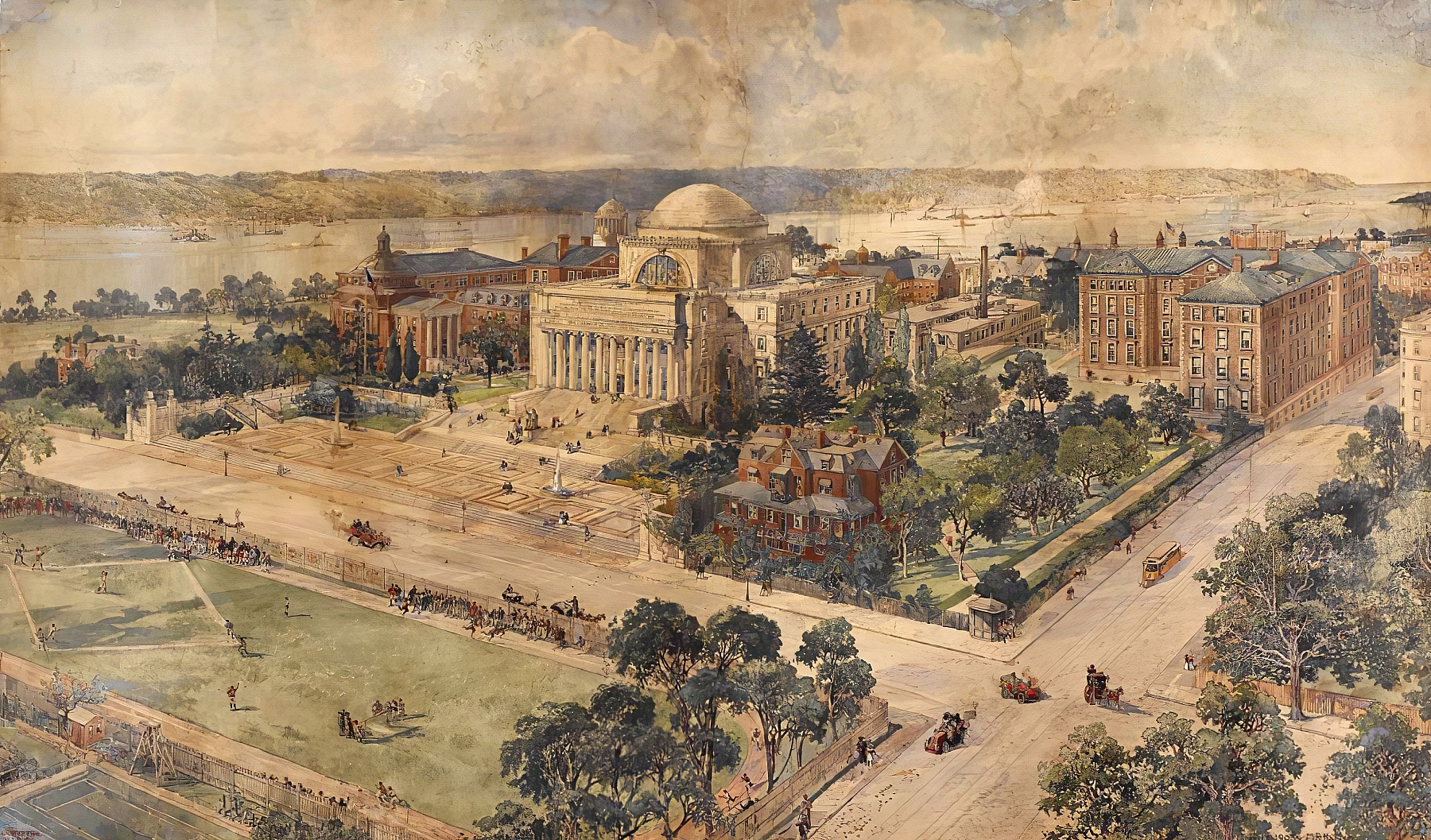 Columbia University, the foundation of the Academic Acropolis, circa 1904
The Vision
Claremont Hall represents the height of enduring craftsmanship and modern luxury — an instantly iconic residential high-rise nested within the campus of Union Theological Seminary.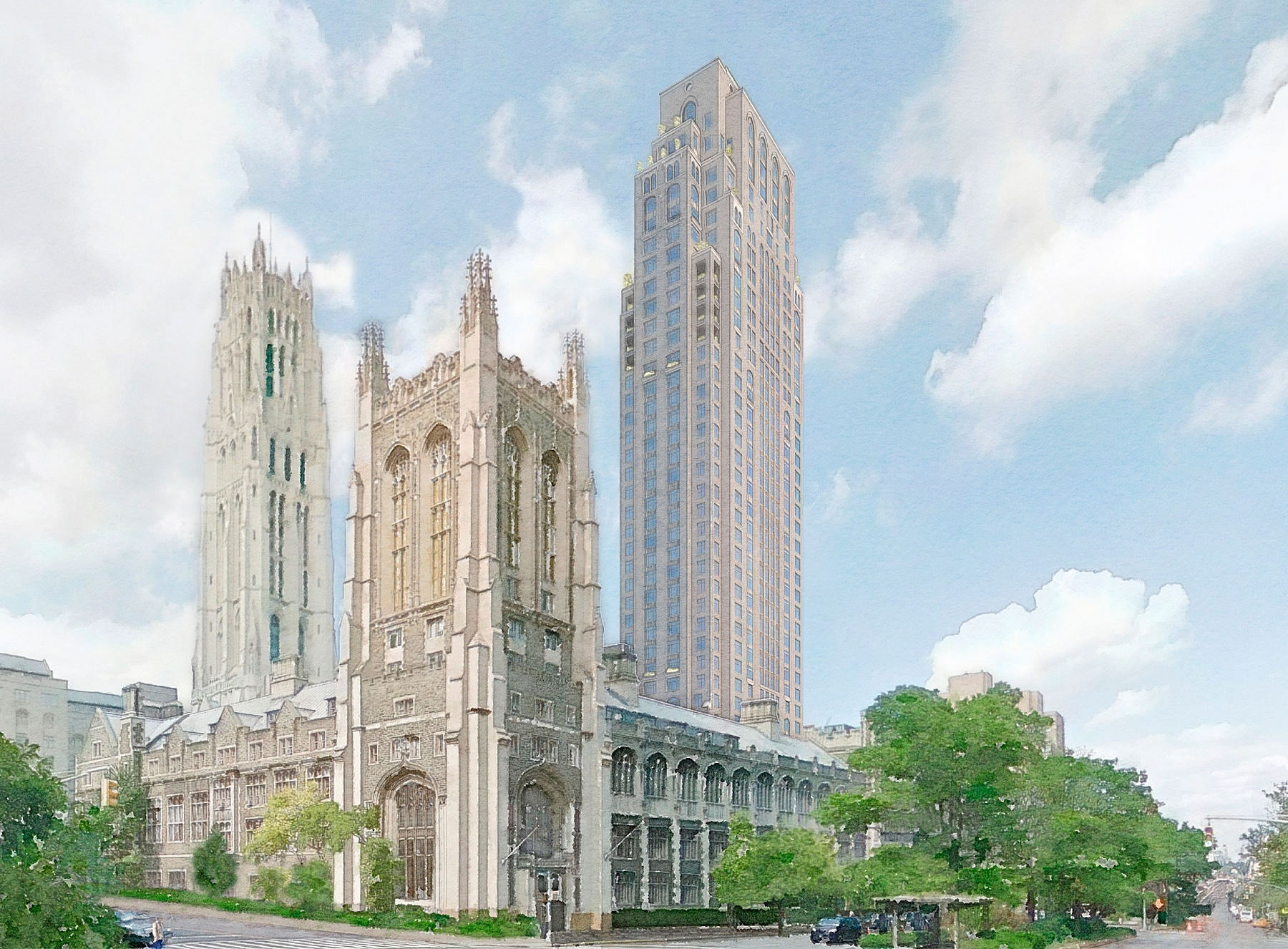 Design illustration of The "Trio of Towers" formed by Riverside Church, Union's Brown Memorial Tower, and Claremont Hall by RAMSA.
Harmony in Design
RAMSA conceived Claremont Hall as a celebration of contextual architecture through historical connection. By adopting the Gothic style and old-world materiality of Union Theological Seminary's Brown Memorial Tower (which is one of the city's finest Gothic landmarks) and Riverside Church (which was designed by the same architects as Union and was the tallest church in America when it was built), Claremont Hall completes a "Trio of Towers" and adds to the classic visual character of the neighborhood.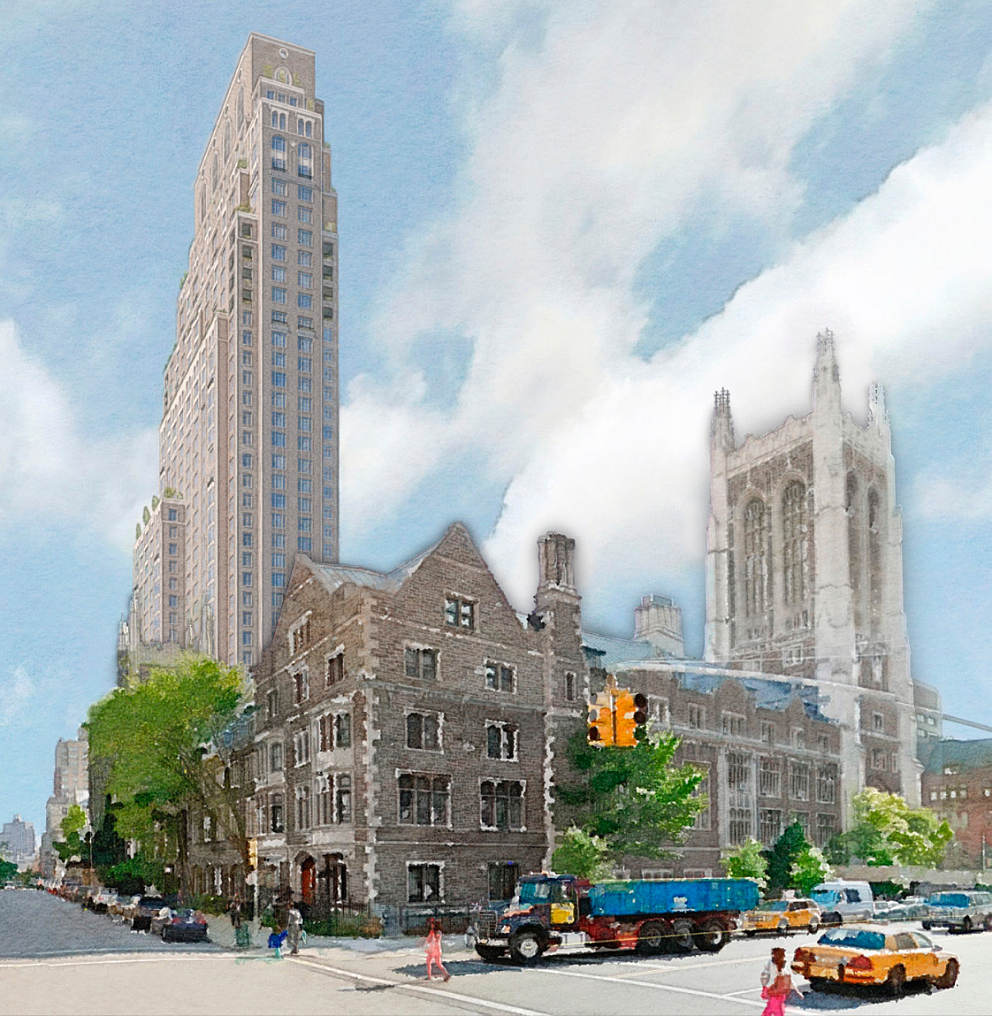 Design illustration of Claremont Hall and Union at corner of Claremont Avenue and 120th St by RAMSA.
Claremont Hall shares many of the architectural features and characteristics that define the Gothic style of Union Theological Seminary and Riverside Church. By infusing modern luxury with Gothic grandeur, Claremont Hall represents the evolution of enlightened living while every architectural detail creates a sense of continuity with Union and the surrounding community.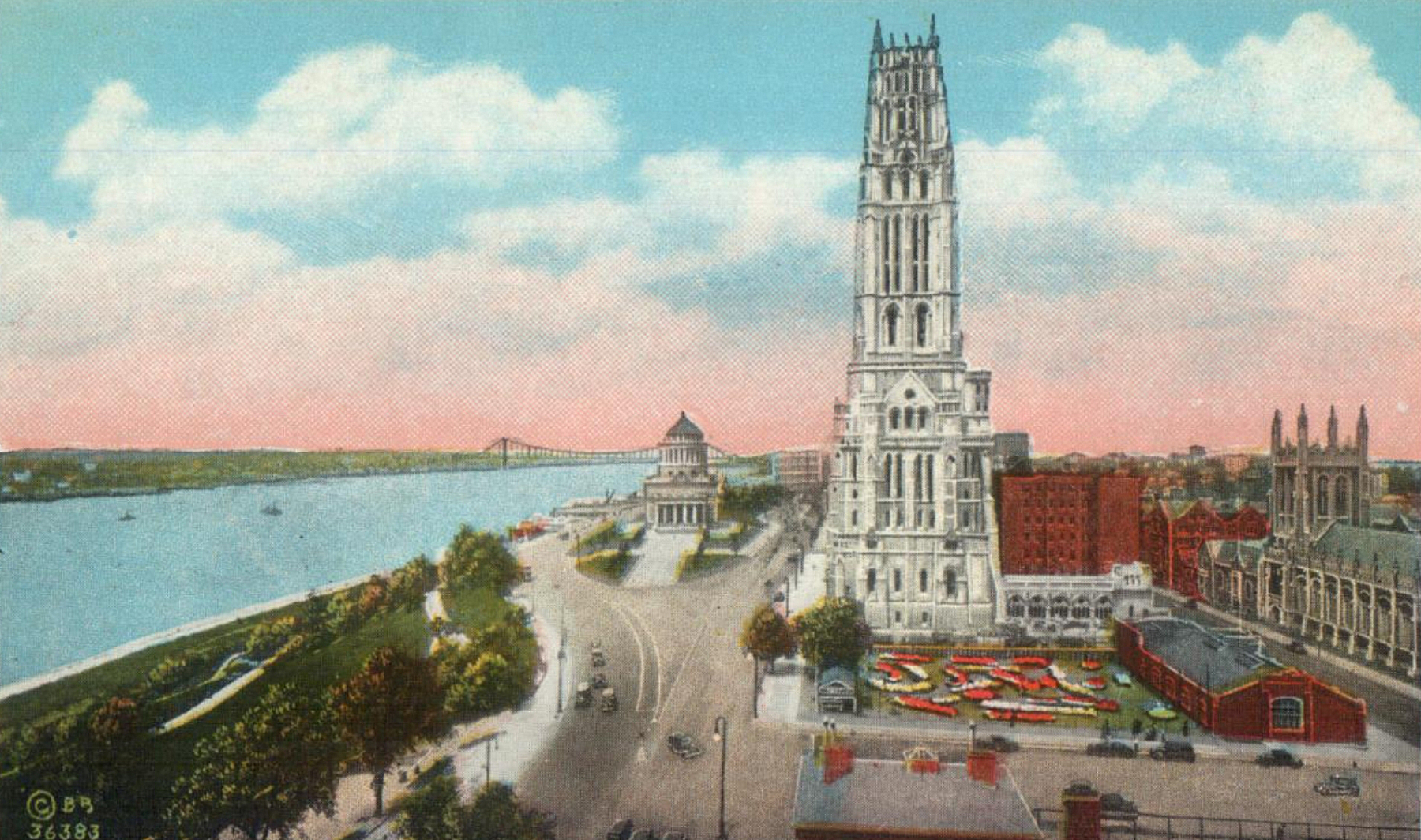 Postcard Illustration of (Left to Right) Hudson River, George Washington Bridge,
Grant's Tomb, Riverside Church, and Union Theological Seminary
The Rockefeller Connection
John D. Rockefeller, Jr. purchased land next to Union along Riverside Drive, where he built the tallest church tower in America, rising high above the Hudson River, visible in every direction. Named Riverside Church, the tower's main feature is a 74-bell carillon Rockefeller, Jr. dedicated to his mother, which is still among the largest carillons in the world. Allen & Collens, the original architects of Union's campus, joined Henry C. Pelton in designing the church.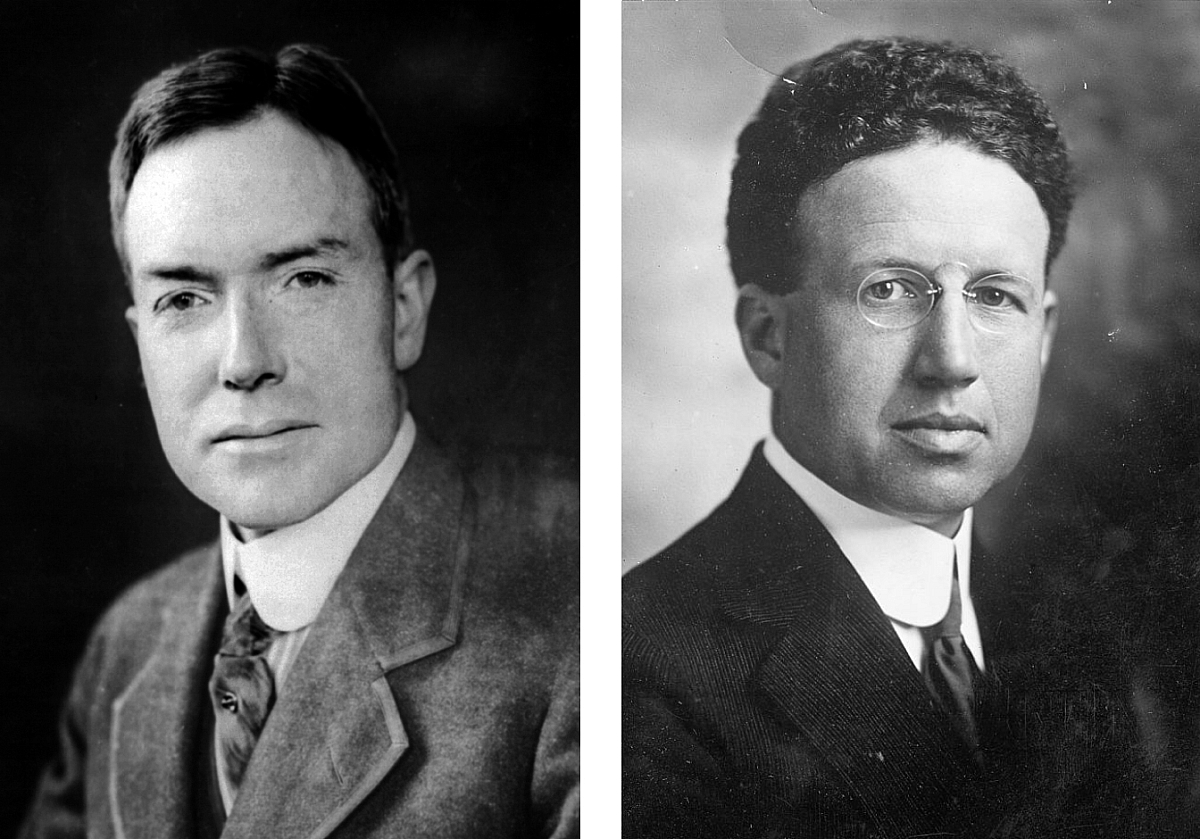 John D. Rockefeller, Jr. and Henry Emerson Fosdick
Rockefeller was the primary benefactor of Riverside Church, and was instrumental in choosing Henry Emerson Fosdick as the church's first pastor, a decision that would shape the neighborhood's reputation as a center of social justice. Fosdick, who Martin Luther King, Jr. considered the "greatest preacher of this century", had trained at Union and would continue to teach there during his tenure at Riverside Church.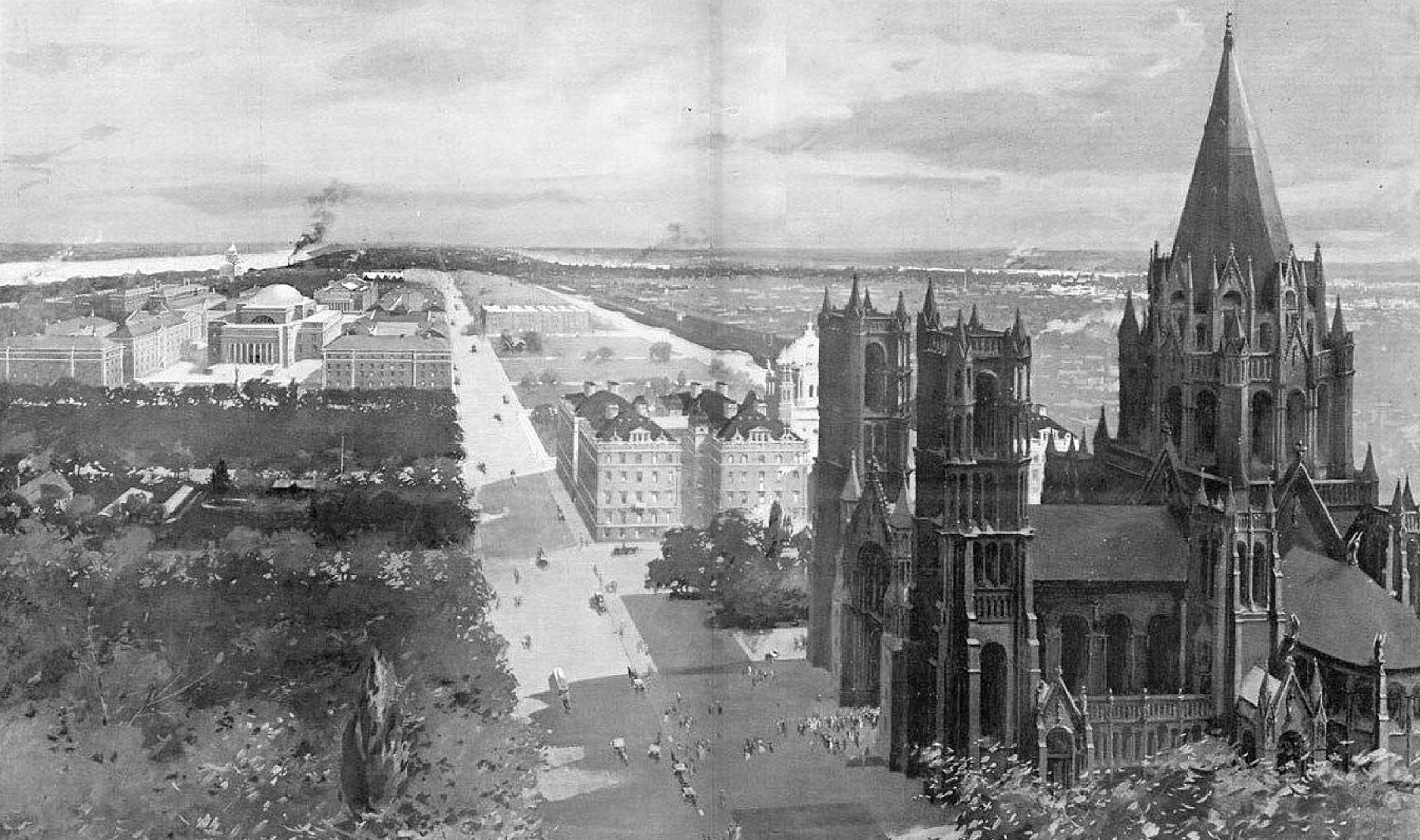 Illustration of Morningside Heights, St. John the Divine Cathedral, and Columbia University circa Early 1900s.
Thought Leaders:
Past, Present, & Future
Every New York City neighborhood has its own unique character, which is defined in large part by its residents and those who engage with the community. Naturally, New York's Academic Acropolis has been instrumental in the development for countless thought leaders throughout the years.

In this Mecca of education, Claremont Hall benefits from some of the world's greatest cultural resources. Residents can audit free courses in literature, history, or philosophy at Columbia University's Manhattanville campus.