Residency Refined
The amenity collection at Claremont Hall is conceived as an invaluable addition to the lives of residents, providing space and resources where you can replenish mind, body, and spirit.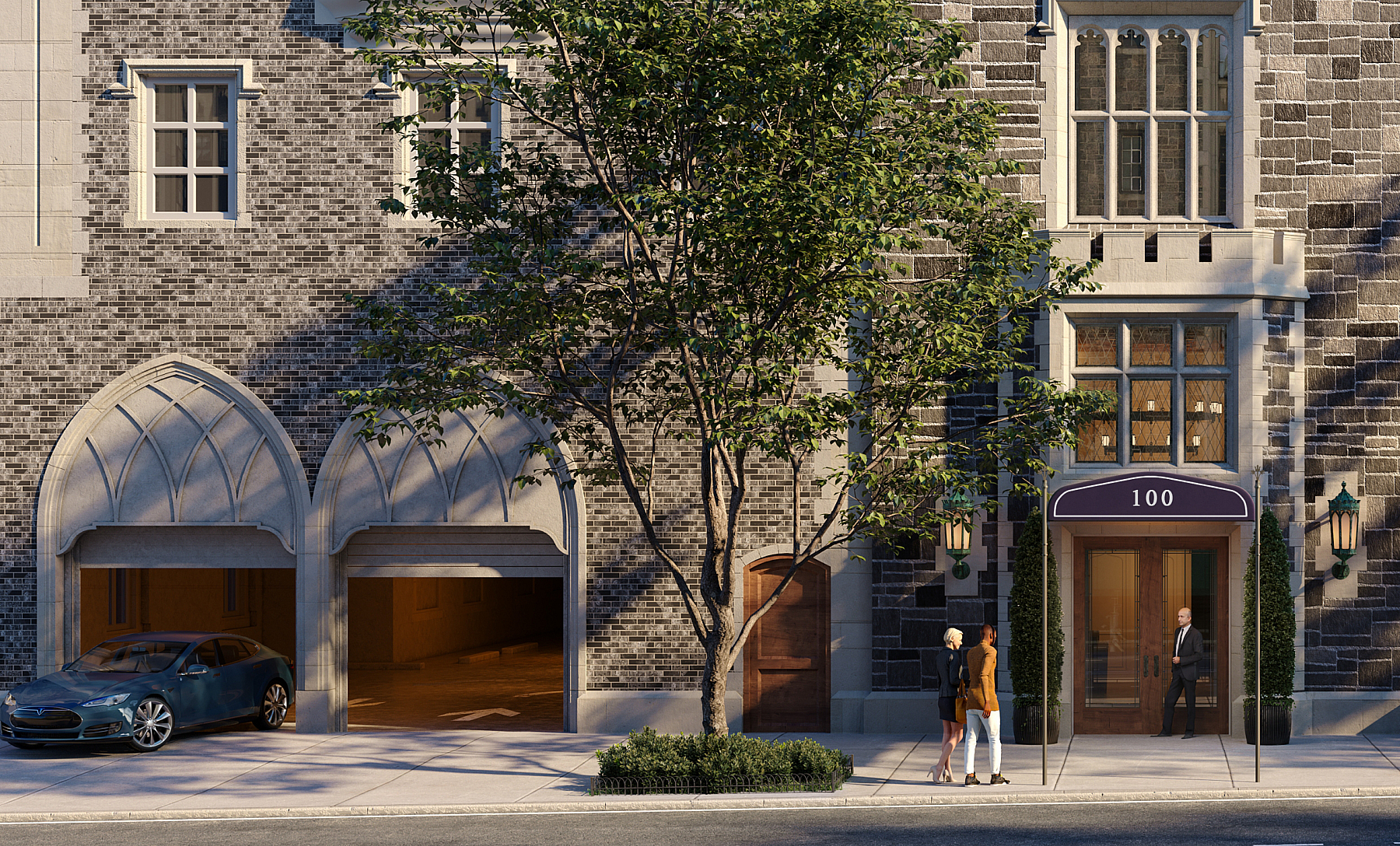 Claremont Hall's main entrance onto Claremont Avenue is a welcome addition to the historic
streetscape with its own parking facility conveniently adjacent.
Welcome Home
The entrance to Claremont Hall immediately unlocks the richness of history.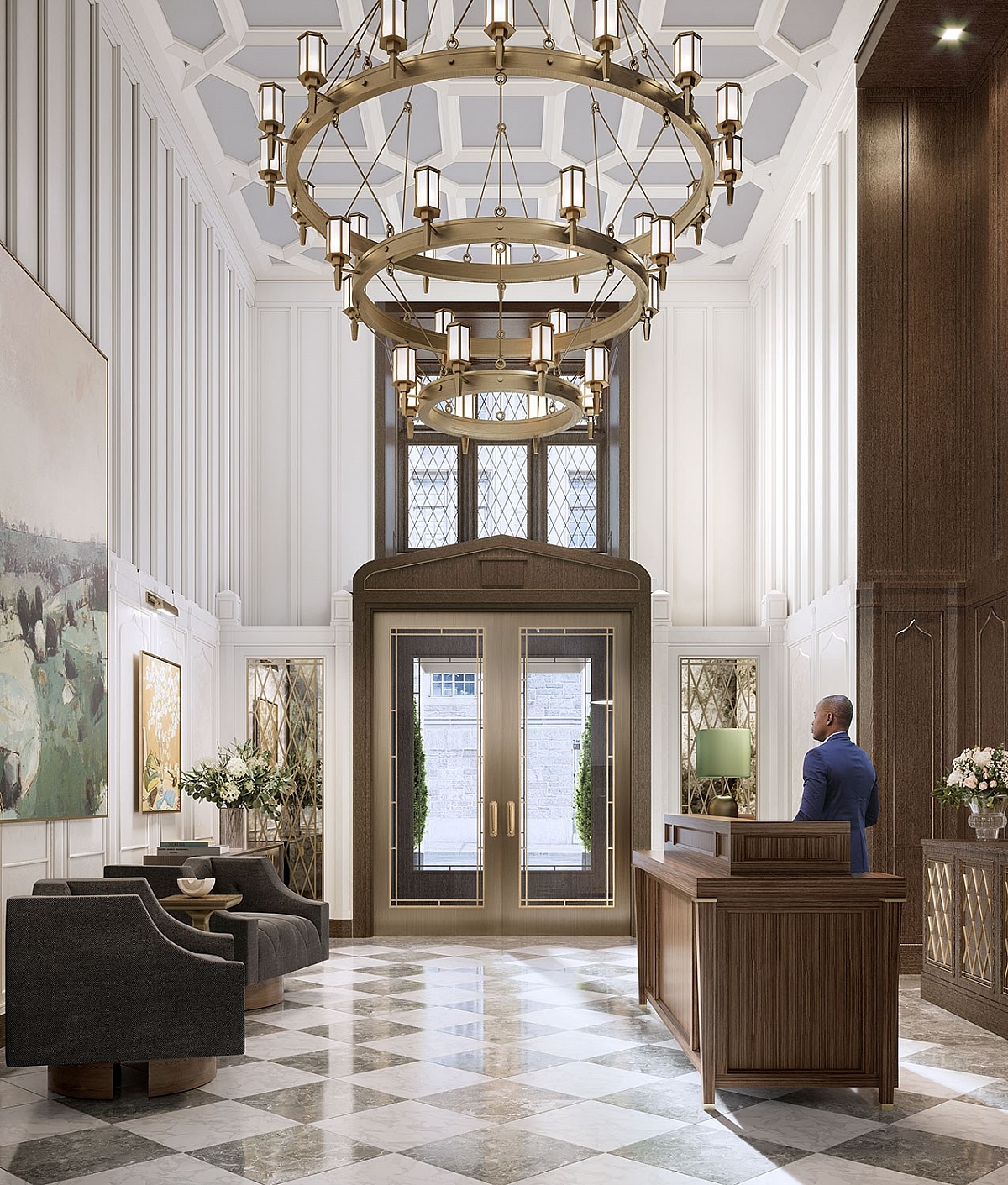 A grand room, a passage, a place to connect with residential services,
the Lobby welcomes residents and visitors in high style.
Inside, the spacious entrance lobby is appointed with Gothic Revival details and is illuminated by a chandelier custom designed by RAMSA after Union's original chandeliers. Contemporary custom furnishings connect past and present.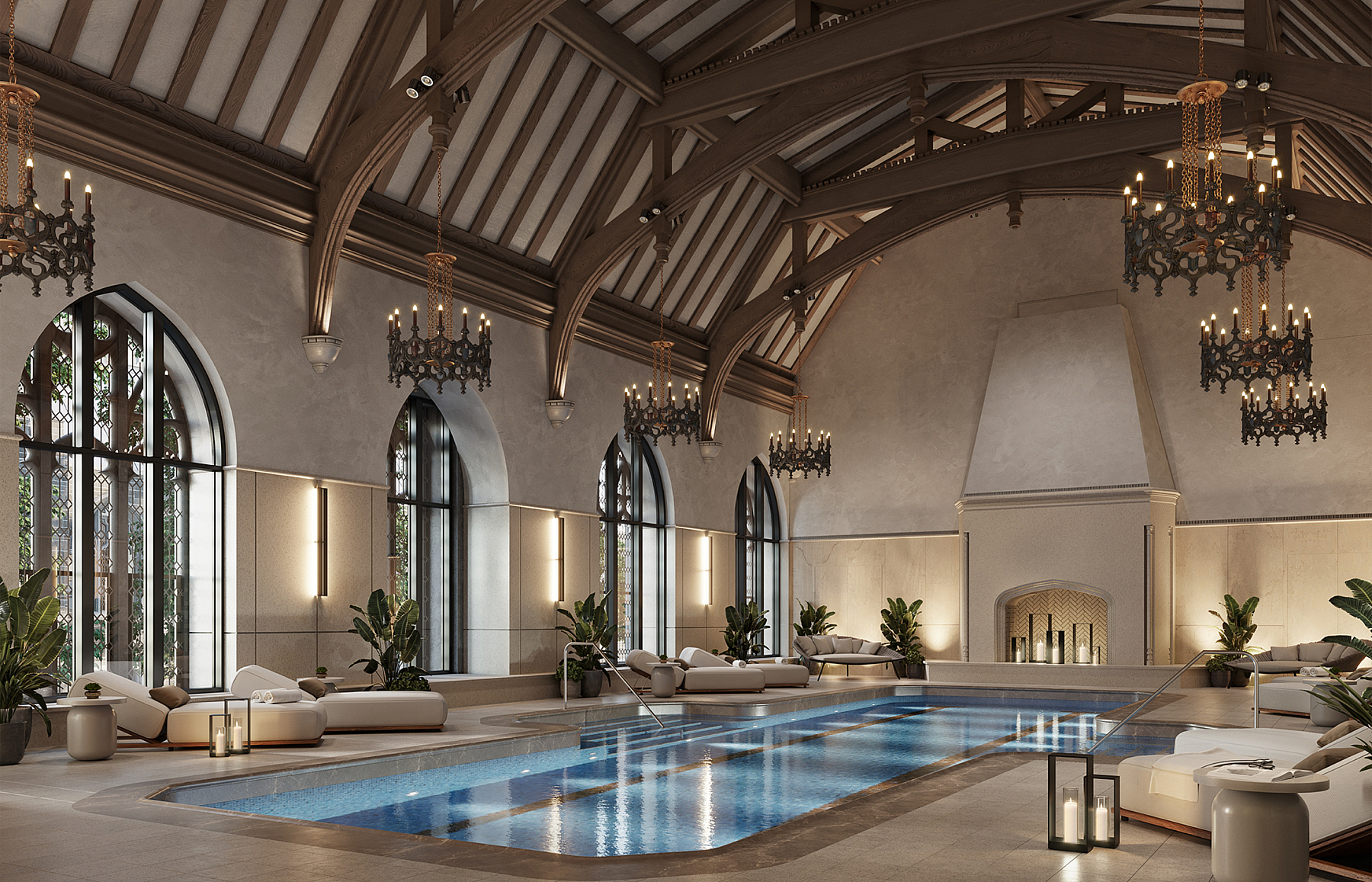 "Refectory" is derived from the Latin word reficere which means "to restore." Union's original dining hall has been
repurposed for something equally refreshing — the Refectory Pool, a saltwater swimming pool.
A Body in Balance
Claremont Hall's comprehensive exercise facilities are inspired by a holistic vision of health. The dramatic Refectory Pool is reconstructed from the original Union dining hall, and features the original gothic windows, chandeliers, and ceiling timbers. To really make a splash, the 48-foot, multi-lane swimming pool can be converted into a staged floor for private events.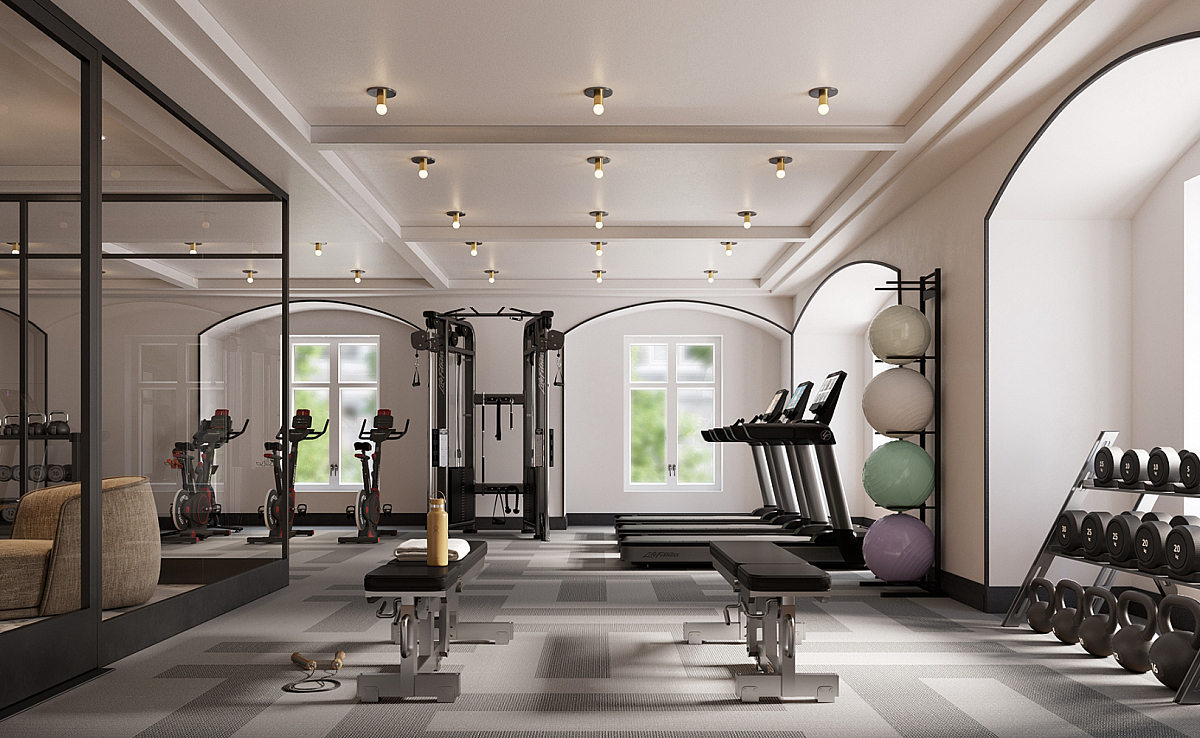 The Gymnasium. Focus on fitness with natural light streaming in from Union's tranquil inner courtyard.
Locker rooms with showers connect the pool to a state-of-the-art Gymnasium surrounded by Union's historic courtyard. To round out the mind-body connection, the Movement Studio can accommodate everything from yoga and Pilates to ballet and meditation.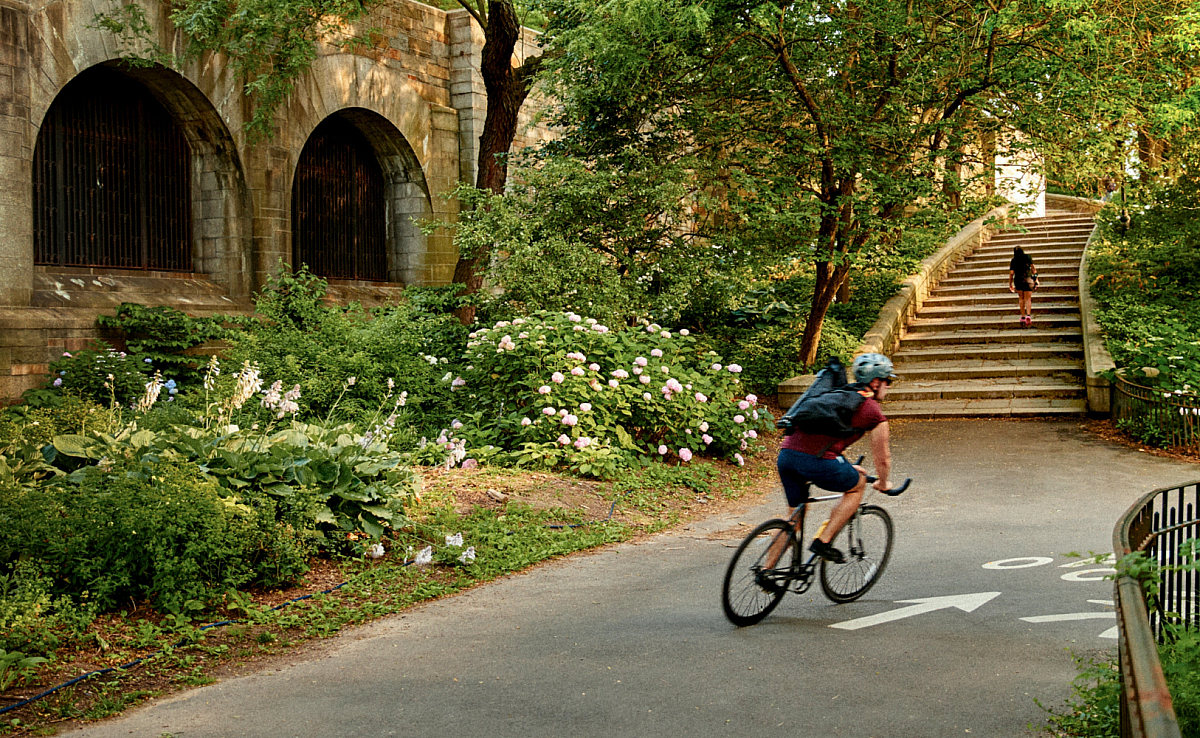 A mile-long stretch of the Manhattan Waterfront Greenway provides bicyclists a front-row view of the Hudson.
Riverside Park's athletic facilities dramatically expand Claremont residents' exercise frontiers. Miles of tree lined bike or running paths, tennis courts, soccer fields, basketballs courts and skateparks are interspersed among the 253 acres of stunning waterfront parkland.
Read More
Expand Your Creative Spirit
People on the go rarely have time to indulge their artistic soul— especially if it means traveling to take a class. That's why Claremont Hall brings creativity home, with a range of spaces designed to facilitate continued artistic expression and learning.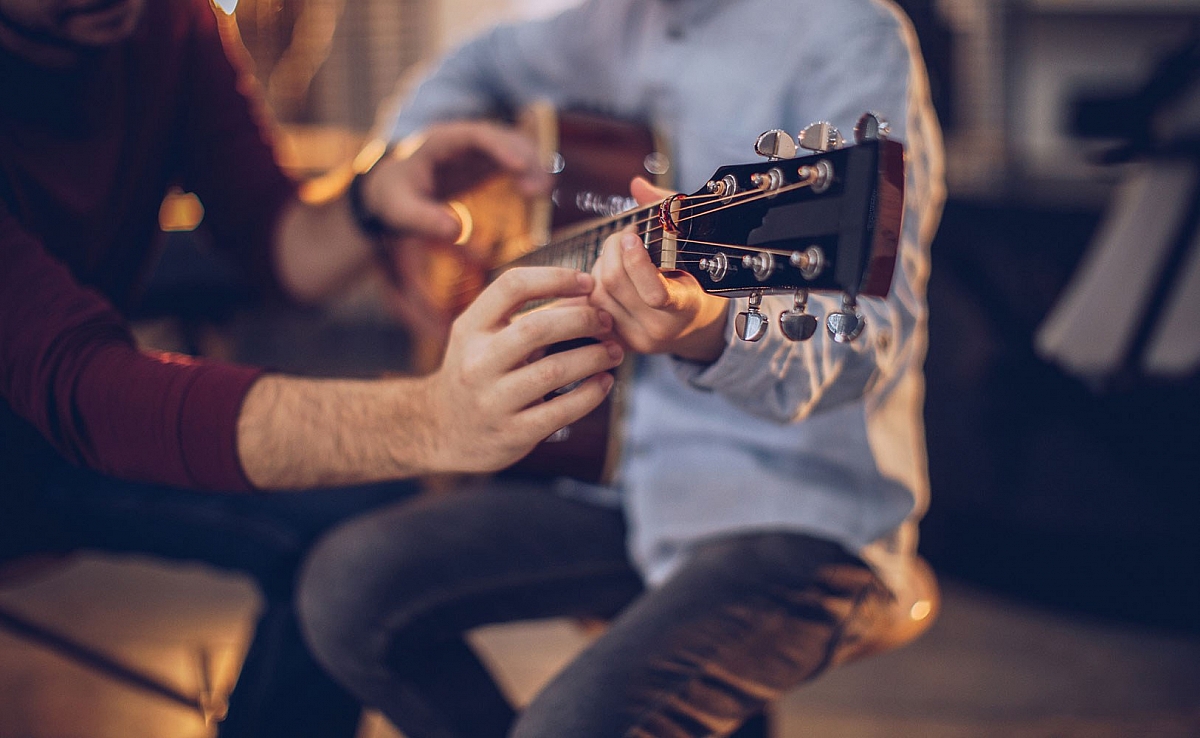 A stop on your way to Carnegie Hall, the Rehearsal Hall is a soundproofed music room and
practice, practice, practice space.
The Rehearsal Hall is a multi-purpose music room where residents can practice all things audio without disturbing their neighbors.
Interested in taking lessons from a world-class musician? Hire a student or professor from the Manhattan School of Music. You may end up being taught by the next Max Roach (class of 1953) or Harry Connick, Jr. (class of 1987).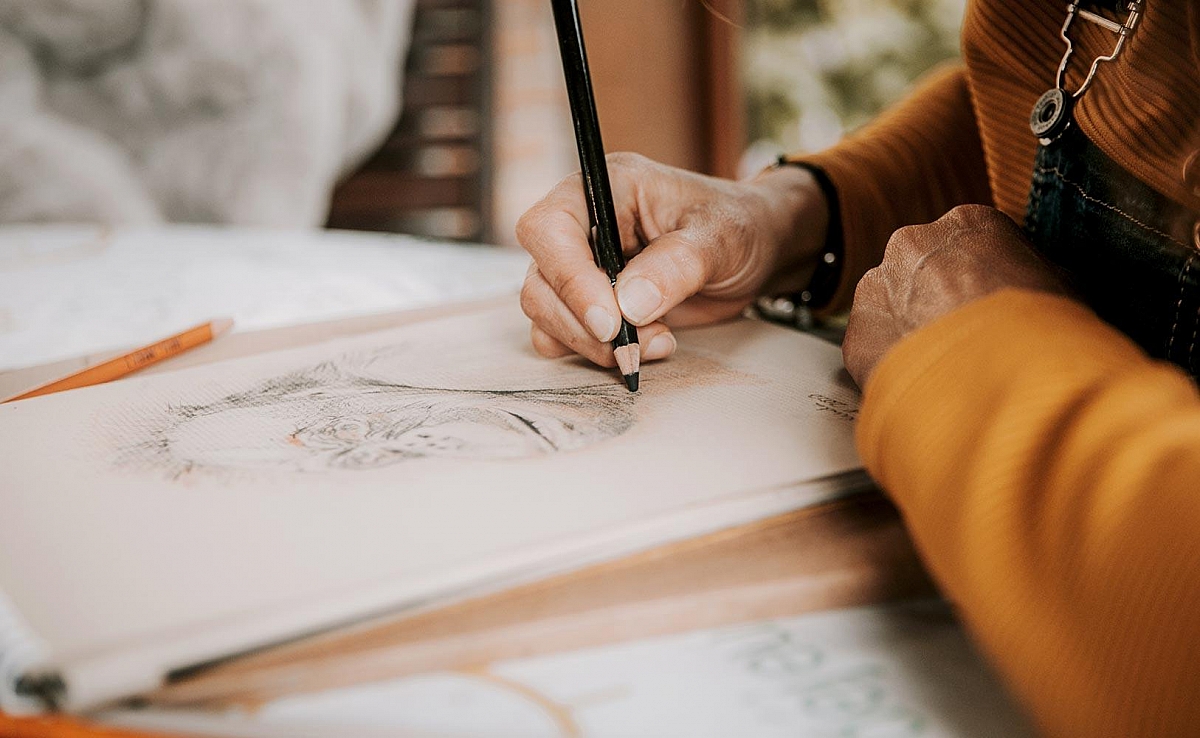 The Workshop is equipped for all your artistic endeavors.
Sometimes finding your artistic soul is a matter of indulging your inner maker. The Workshop is an arts & crafts space where residents of any age can explore painting, pottery, sculpting, or whatever their creativity inspires.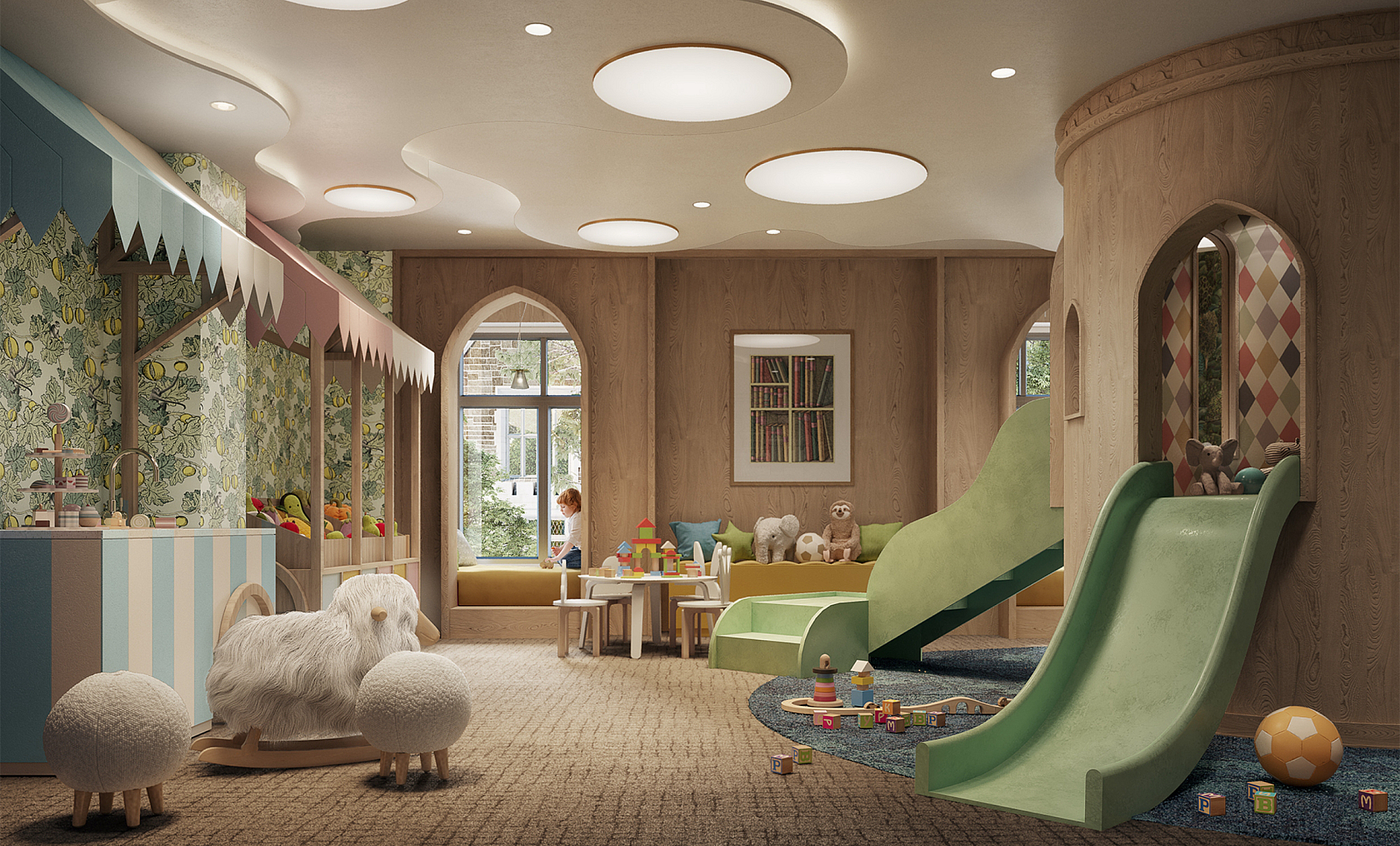 The fantastical Little Castle overlooking Union's courtyard
The Little Castle (playroom) is a merry space where children can channel their over-abundant energy into activities involving play, imagination, and social interaction.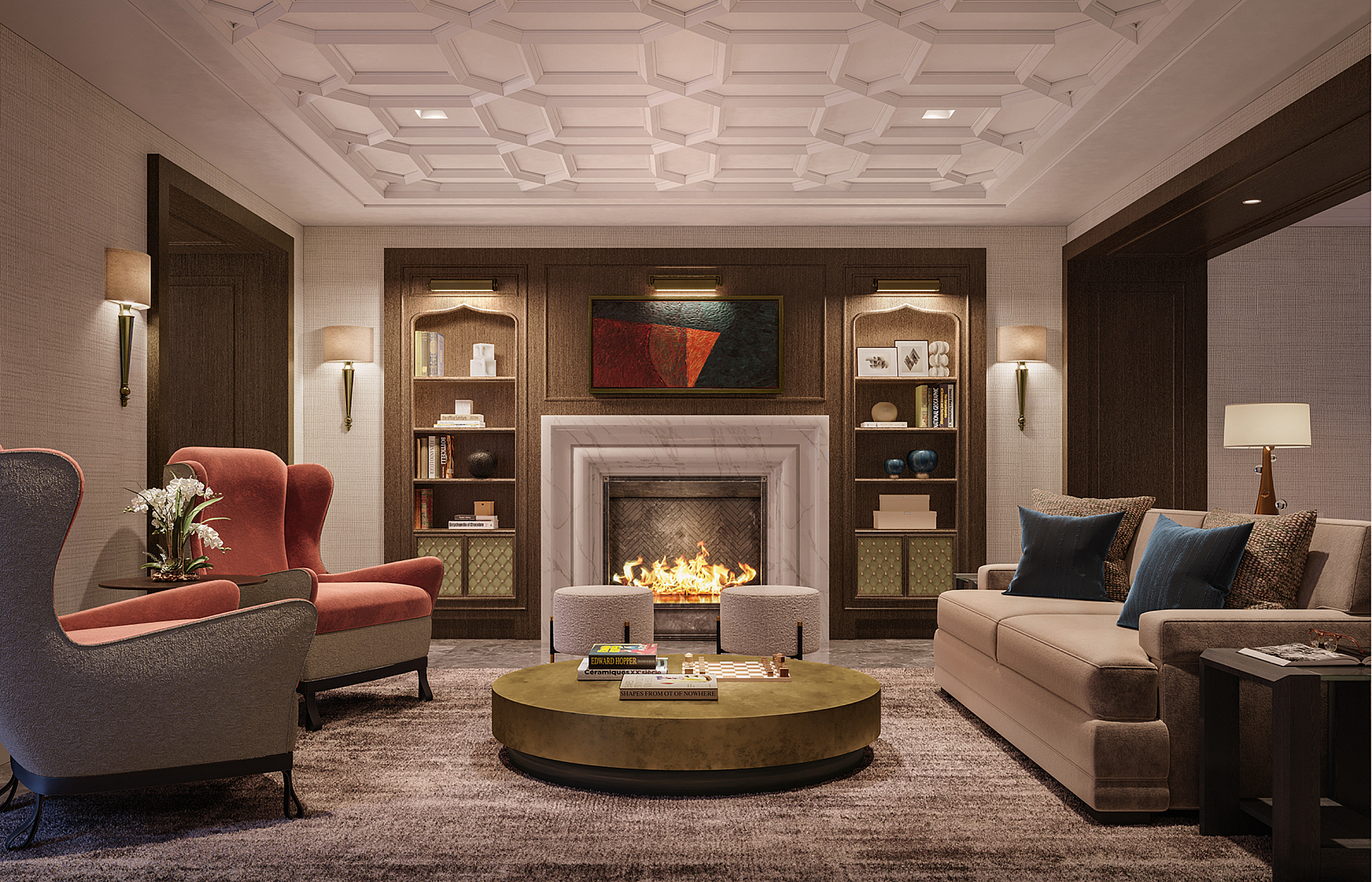 The Study evokes the fireside ambience of a classic Ivy League alumni club.
A Place to Gather
Claremont Hall celebrates enlightened living. The Study, located on the first floor, provides an intimate setting to extemporize, socialize or just do business.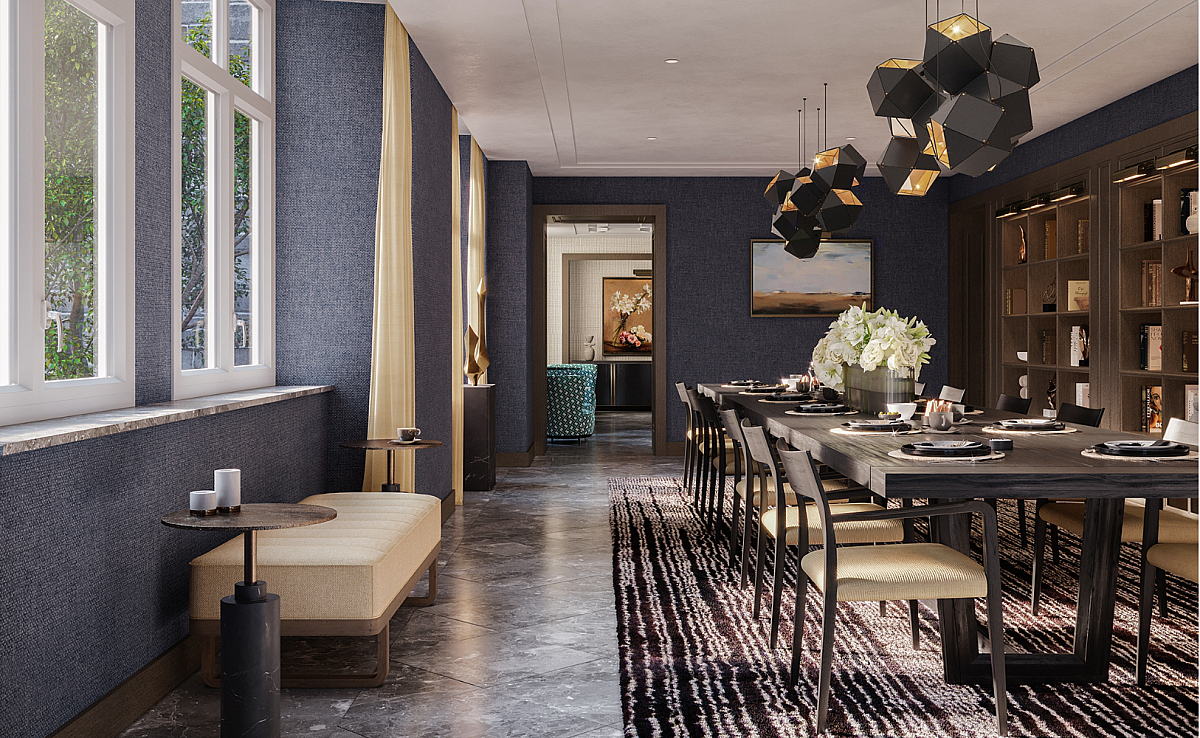 The Library & Dining Hall is designed to celebrate moments and create memories,
with seating for 16. Perfect for events catered by Local Restaurants.
Adjacent to The Study is the Library & Dining Hall, complete with a pantry for catering and chef services, and the Library, where residents can access leatherbound editions of all the classics that make up Columbia's famous 'Core Curriculum.' An amenity that will come in handy for residents who choose to audit free courses in the humanities at Columbia University's Manhattanville campus.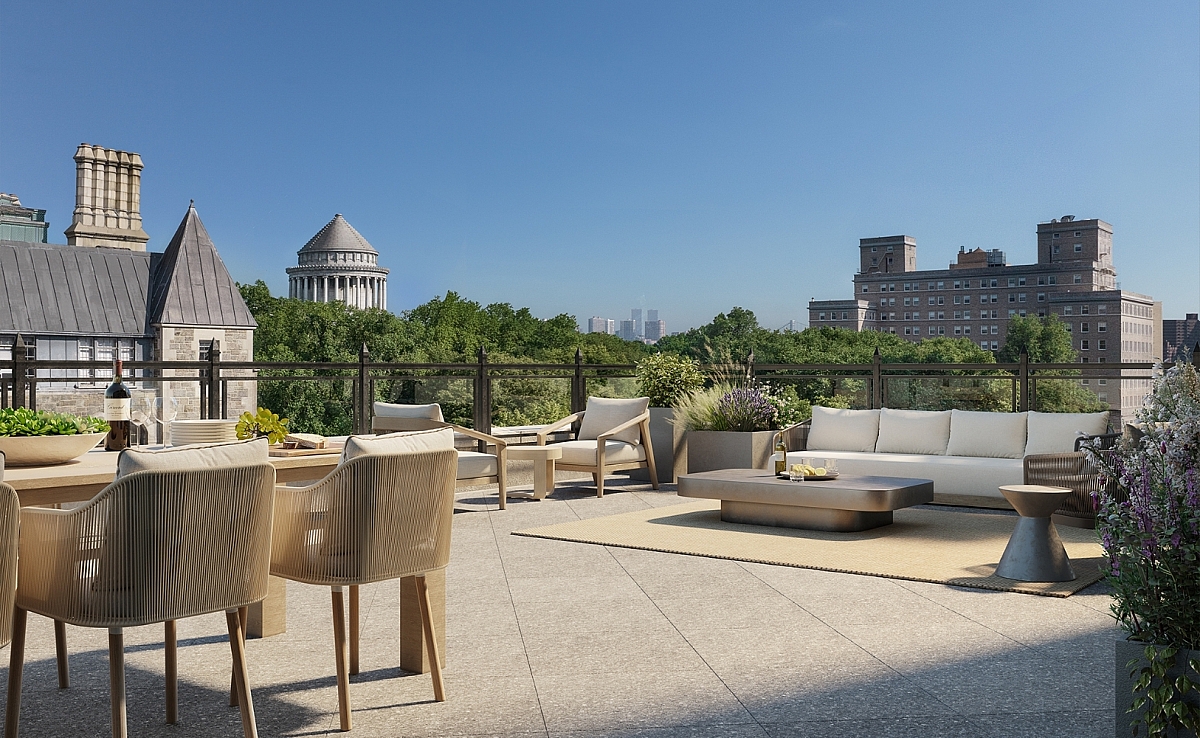 The expansive outdoor terrace overlooks Riverside Church, Grant's Tomb, and Sakura Park,
the idyllic location to enjoy the natural splendor from the comfort of your home.
Above the treetops, the sunny Parkview Lounge & Terrace is a place where residents can enjoy additional space to gather, make new acquaintances or relax both inside and out. Furnished with communal seating and dining areas as well as a chef's kitchen, this space captures the feeling of a grand hall designed for entertaining & gathering.
Building
Services
Garage Valet Service

---

Doorman

---

Resident Manager

---

Virtual Concierge

---
Modern
Conveniences
Private On-Site Parking

---

Pet Spa

---

Private Storage

---

Bicycle Storage

---